Glico KK is hiking the promotional efforts towards its new chocolate named "GABA". What is this? Some readers may think it is about the same-name English language school in Tokyo, but no one would assume that it has something to do with the chemical substance gamma-amino butyric acid. The former would be wrong.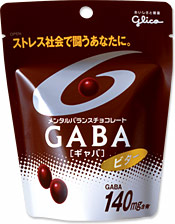 In last May Glico started manufacturing four types of GAB chocolate balls (milk and bitter, 140 and 420 mg) under the apt slogan "To you who fight in stressful society".  
The clams of the new chocolate products are nothing less than to be a "Mental balance chocolate". Where this comes from? For centuries - at least in civilizations in South America, cocoa and its products have been know to stimulate, to energize, to boost creativity and sexual drive, and generally to increase - i.e. to produce a deviation of the more common state. That is it: a disbalance.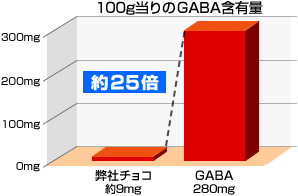 Now we have GABA chocoballs and the manufacturer claims to have shipped a products aiming at balance. The reasons for such belief, or - basis for the claims is the much higher - up to 30-fold contents of GABA compared to the negligible competitors. The result - a Mental balance chocolate!
One may wonder if this drug-resembling chocolate will quietly disappear as polyphenol chocolates all in rage a couple of years ago.